Hello everyone from Kobe studio! It is getting warmer those days, How are you spending your day?
We are going to have an annual event, showcase on 22nd April. It is very exciting!
We had a guest party 'Pre-Showcase party' on the 18th March. We spent time dancing all together including our students, family! Thank you for your participations! It was a great fun time!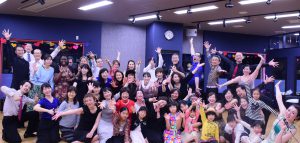 If you are looking for a new hobby this spring or if you are considering to do something that you can move and refresh, would you be interested in starting pair dance?_
Trial lessons are available for you to try, please do not hesitate to contact us!