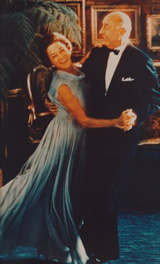 As America's second oldest franchise organization, Arthur Murray International, Inc. is known around the world as a prominent entertainment company with franchises located throughout the United States, Canada, Puerto Rico, Europe, the Middle-East, Japan, Africa and Australia.
With the beginning of a new millennium, social dancing is again a significant part of popular culture for all generations. Today, the Arthur Murray Franchised Dance Studios continue a tradition of more than 100 years in teaching the world to dance.
Arthur Murray Franchised Dance Studios has kept pace with the rapidly changing "youth culture" and continue today to flourish as the world's largest dance instruction organization.
Arthur Murray dance teachers can be found not only in the studios, but on the movies sets in Hollywood; backstage on Broadway; and partnership with major entertainers to promote the music that the world dances to. Whenever a movie involves dance, it's good bet that AMII has been involved in some way, shape or form. Such movies as Shall We Dance?, Dirty Dancing, Dirty Dancing II, Dance with Me, Beautician and the Beast, Flash Dance, An American President, True Lies, Saturday Night Fever and Scent of a Woman are some of the films which have used Arthur Murray instructors to either teach a dance to the stars and/or dance in the film.
The Arthur Murray Franchised Dance Studio's name appears regularly in major national magazines that include Vogue, Martha Stewart Wedding, Smithsonian,Sport Illustrated, Woman's Day and more. Wherever advertisers want to reach consumer's with a message of romance, intimacy or just plain fun, you'll see dancing,from the Gap now famous Khaki Swing commercials to dancing M&M's and gas pumps.
Arthur Murray International's commitment to dance goes even further, with senior management heavily involved in the world of professional and amateur competitive dance, known as Dance Sport. Many of Arthur Murray's official have contributed to bringing competitive ballroom to the forefront as an Olympic Sport.
Building from within has kept the studio system strong, with franchisees that are committed to the Spirit of Excellence which is the hallmark of the entire Arthur Murray system. Currently there are approximately 250 Arthur Murray Franchised Dance Studios worldwide.