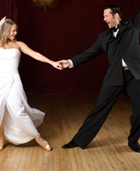 Introductory Program
This program is designed as an introduction to three or four of the popular social dances. Its purpose is to develop your movement, timing and how to move with a partner, also to teach you basic lead and follow.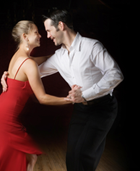 Basic Program
This program is designed to develop movement in all directions to move around the floor, which will make the dance more enjoyable to your partner. It will strengthen your lead/follow and give confidence to get on the floor without the fear of not knowing what to do.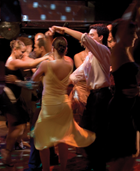 Associate Bronze
This program will develop free movement around the floor with much more variety. You will learn how to group patterns together, balance posture, timing, and your first introduction to styling to make your partner comfortable, and give you more assurance that you look good on the floor. This program is very popular with the person that wants to get on the floor this Friday night.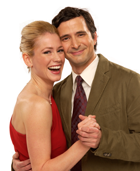 Full Bronze
Bronze is the full Social Standard. It will develop timing and technique in all the major Social Dances. The styling will make you look nice and comfortable while on the floor. It will strengthen your lead and following to the point that no matter who your partner is, you will look poised and very good in each of the dances. It will give you all the confidence you will ever need on the dance floor. Dancing at this level will be yours to keep as you will never forget the elements of each dance. It is the fun point in dancing when you don't have to think about anything but enjoying your partner and having fun yourself. You will be checked out in each phase by an Arthur Murray Examiner. Congratulations! You are now a full-fledged dancer!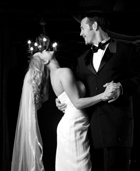 Silver
Silver is a dance standard with a high degree of styling. Flashy moves make this standard stand out on the dance floor. Continuity of movement makes a couple glide around the dance floor, with many changes in direction. Styling makes this standard develop an individual character - some people become Smooth Dancers while others become Latin Dancers. Technique is very important to develop continuity of movement. This standard is the beginning of the showy and flashy dancing to be used mainly on the ballroom floor. A Silver dancer is definitely noticed on a crowded floor.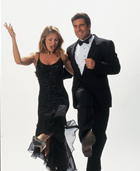 Gold
Our Gold Standard is for the Stars! Strictly a standard for the hobby dancer or the person who wants to do exhibitions. Its intricate patterns are only to be used when both people really know what they are doing. Choreography, styling, technique and showmanship are necessities in this standard. This cannot be used on a crowded dance floor. The smoothness and control make this a beautiful standard to sit and watch. You had better be prepared to work, if this is your standard, but you will truly be regarded as an outstanding dancer able to excel in any dance there is.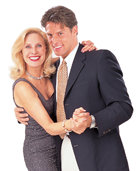 Wedding Program
Learning to dance for a wedding is a special gift that you and your spouse-to-be can give to each other. A couple who feels confident and poised when they dance together will ensure that their very first dance together as wife and husband will be a memory they will cherish forever. It's Ok if you haven't chosen a song. On your very first lesson we will introduce you to the main dances most couples use. We can help make suggestions depending on which dance you like and do the best. If you already have a song chosen, bring it with you!
Corporate Programs
Arthur Murray corporate dance programs aim to develop work teams by enhancing communication, relationships, self-esteem and social awareness. Corporate members will strengthen key skills as they listen, learn, persevere, perform and encourage in a relaxed fun-filled environment. Partnership dancing is one of the most effective methods to build trust in the work community and develop a greater team spirit. Obviously this kind of improvement will translate to greater productivity, increased profits and a work environment that is looked forward to!